My Beautiful Cutting Garden
Hey Friends!
I'm so glad that you are here. I'm so excited to share my cutting garden with you-it's my happy place! I'm participating in a Garden Blog Hop today, if you are coming here from the incredibly talented Leslie from https://feetundermytable.com/-welcome!
I have been adding to my garden for years. We have ten acres, so I have lots of space to add new plants each year. Because I have so much space to care for, I try to make it easier on myself by planting perennials and plants that don't need a lot of care. When I plant a new plant, I have a talk with them and tell them that if they want to live here, that they need to take care of themselves. I then say a prayer over them, if they don't do well under those conditions, I give them to friends or family.
The two plants that I have most are Wisteria and Hydrangea. I believe that I have about 21 Wisteria. I love how profusely they bloom and how they drape so beautifully from my pavillion and trellises. I have about 13 different kinds of Hydrangeas (and about 35 plants), they are so easy to grow and they make a garden so happy. My hydrangeas bloom from early spring all the way through fall, and they are so perfect for bouquets.
In this section of my cutting garden, I have planted hundreds of bulbs-Tulips, Dahlias, Daffodils, Irises and so much more. I also have many rose bushes. The paper whites start popping up in January and I have flowers all the way through fall.
What I love most about Irises, is that they remind me so much of my grandma. She had them planted all over her garden. 'Dreaming Spires' is my favorite iris because of her, but I do have about 10 different irises.
These are the peonies that I have in my garden, I love them so much that I will be adding more colors to my garden this year.
My husbands favorite flower is the sunflower. Each year I plant a sunflower forest with Mamoth Sunflowers. They grow to 12-14 feet tall. My grandbabies love to run through the sunflowers.
I have loads of lavender. It smells great and looks wonderful in bouquets. I also dry lavendar to use in sachets.
Although the flowers are beautiful on their own, I like using greens/fillers to add interest to my garden and bouquets. These are some of my favorites.
But, one of my all time favorite fillers is Hypericum. It comes in several colors and you can use it when it flowers or when the blooms have passed.
Well, there you have it. I hope that you have enjoyed the tour of my cutting garden. I hope that you will head over to my friend, Kippi's at https://kippiathome.com/, she has some amazing ideas to share with you.

Kippi at Home // The House on Silverado // Sand Dollar Lane // Sonya Burgess
🌱 🌱 🌱 🌱 🌱 🌱

My Family Thyme // Olivia O'Hern // Darling & Dapper Life // From Farmhouse to Florida
🌱 🌱 🌱 🌱 🌱 🌱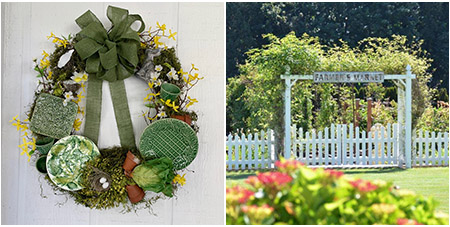 Happy gardening!
Hugs and blessings to you,
Renae